It is well known that power outages will return with a bang. You might not have food for the night if your stove makes that banging noise when the electricity is turned off. A power outage could cause a surge that harms the stove, necessitating costly repairs. However, you do not have to worry about them or buy takeout every time the power goes out. Our experts have collected the best gas stoves for sale in South Africa.
Getting the best gas stoves is one of the best decisions that property owners should make. A gas stove's perks are not just financial. They also include its ease of maintenance, which makes cleaning and maintaining it simple. With a simple turn of the knob on either side, you can easily adjust the temperature. What our experts like about gas stoves over electric ones is that you can immediately feel the increasing heat.
Cooking a meal will go considerably more quickly because the heat is instant, and you will finish much sooner. You can save money by not ordering food from restaurants that you do not need, and you can save on your energy bills by using gas stoves.
Buyer's Guide: Things to Consider When Choosing Gas Stoves
Headspace
In a top grill, you need enough headspace. It automatically checks on your meals without being exposed to smoke. It is excellent for people who wish to check the meat's tenderness while you serve it.
How Many Burners Will You Need?
If you cook for a large family, a gas stove with more burners is mandatory. Moreover, people who use a gas stove for a living (e.g. food trucks) need plenty of burners. On the other hand, a gas stove with two burners would be enough for a small family with modest cooking requirements.
The ability to maintain parity by maintaining the heat in the burners makes South African gas stoves ideal for hosting events.
Types of Stoves
You can choose from one of three main categories of stoves.
Built-in stoves are perfect for outdoor entertainment. However, its installation is permanent so it cannot move at all.
On the other hand, a freestanding stove does not need to have a permanent placement. Some gas stoves of this type have wheels so you can easily move them around. However, they are still heavy so they require at least two people to move a freestanding stove around.
A portable stove is appropriate for outdoor adventures that require little storage, such as camping and vacations to the beach.
Uniform heat
When purchasing a gas stove, it is important to think about whether the heating system is uniform. You will have no more concerns about burning. The assurance of perfectly delicate food comes from a stove that cooks with consistent heat.
Advantages of Purchasing a Gas Stove
A more even cooking due to improved heat distribution.
By raising or decreasing gas, you can easily change the temperature.
Gas ranges are less expensive to operate than electric ranges.
It releases less heat into the kitchen. As a result, lower cooling expenses during the summer.
Natural gas is widely accessible, reasonably priced, and burns cleanly.
Best Gas Stoves for Sale in South Africa
Every kitchen's heart is a reliable stove. The performance of your stove, whether it is a freestanding appliance or an oven and hob, is important to the practical cooking capabilities and practical arrangement of your kitchen. Listed below are the top gas stoves that can meet your preferences.
Alva 2-Burner Gas Stove GCS04
Website: Alva South Africa | Material: Stainless Steel | Number of Burners: 2 | Burner Size: 90 mm | Auto Ignition: No | Type of Gas: LPG | Recommended Cylinder Size: 3 kg, 5 kg | Gas Consumption: 380 gr per hour | Jet Size: 0.8 mm | Product Dimensions (L x W x H): 71 x 37 x 8.8 cm | Product Weight: 3.08 kg | Product Warranty: 12 months | Price: R 479
The Alva two-burner gas stove is durable and efficient. Anyone can easily use it and set it up because they are both so basic. The body of the stove is made of jointless steel, which makes maintenance and cleaning simpler and protects against hand injuries when handling or cleaning the stove. If you have kids who might want to mess with the knobs, it would not be a problem because they are firm.
This gas stove is excellent, effective, fantastic, and helpful. In addition, the design is pretty interesting and appealing. Although they have no rubber covering, the knobs are also smooth for improved grip. You do not have to worry about the stove falling and getting damaged because it is heavy-duty and made strong with a lot of metal.
This stove works effectively in tiny spaces because of the evenly positioned burners. The stainless steel has a great polish as well.
If you want to cook with a big pot, this stove is extremely well suited for your kitchen and will be very helpful. This Alva gas stove is a high-quality product that's worth your money, and it's simple to keep and clean.
---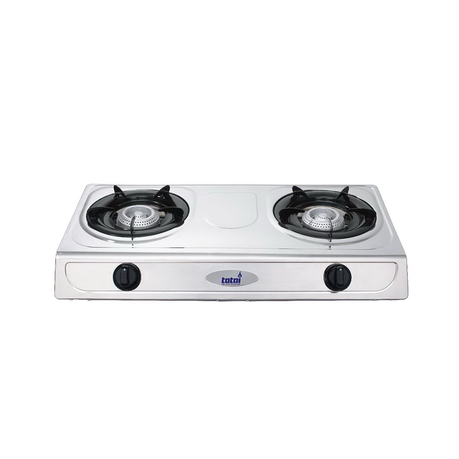 Totai Hot Plate 2-Burner Polished Stainless Steel Gas Stove 26/011A
Website: Totai South Africa | Material: Polished Stainless Steel | Number of Burners: 2 | Burner Size: 90 mm | Auto Ignition: Yes | Type of Gas: LPG | Recommended Cylinder Size: 3 kg, 5 kg | Gas Consumption: 210 gr per hour | Product Dimensions (L x W x H): 72 x 40 x 10 cm | Product Weight: 2.5 kg | Product Warranty: 6 months | Price: R 400
It has two effective burners and is a great gas stove made of stainless steel. In order to avoid overcooking or cooking unevenly, the burners are specifically made to spread the heat uniformly across the hot plate. This stove is spacious, simple to use, and takes up less room in your kitchen.
The Totai stainless steel gas stove has a contemporary design that is perfect for any occasion in your home. Although it is of average size, you won't have any trouble preparing a delicious meal for your family or friends.
The stove is made of stainless steel, which has a smooth appearance and is far more durable than stoves made of other materials that are more prone to scratching. Rust, which is typical of non-stainless steel stoves, is also avoided by its stainless steel design. You may set the stove down on any flat surface you have because its legs are long enough to accommodate uneven surfaces. The engineering behind this stove's design is outstanding because the gas stove is flexible and adaptable when it's in use.
---
Defy 4 Plate 50cm Black Gas/Elec Stove Black DGS178
Website: Defy South Africa | Material: Stainless Steel | Number of Burners: 3 (with one hot plate) | Burner Size: 90 mm | Auto Ignition: Yes | Type of Gas: LPG | Recommended Cylinder Size: 3 kg, 5 kg | Product Dimensions (L x W x H): 50 x 60 x 88.5 cm | Product Warranty: 12 months | Price: R 3,999
An excellent addition to any kitchen is a Defy gas stove. It is compact and can quickly provide the heat you need for cooking. The features and durability of this model make it outstanding. An extra benefit is its modern design.
There are not many things that could be more useful than the stove because it has so many features. This gas stove is both aesthetically pleasing and useful.
The gas stove's cooktop is approximately as good as it gets for the price. It contains three more powerful burners than you often find; the first two are in the front row (where they are easy to reach) and the third is in the back. It is also covered in the continuous grating.
The oven is wide and big enough to fit comfortably. Additionally, it offers an air-fry setting, a convection mode for cooking that is quicker, crispier, and more uniformly done, and a high-heat cleaning function.
---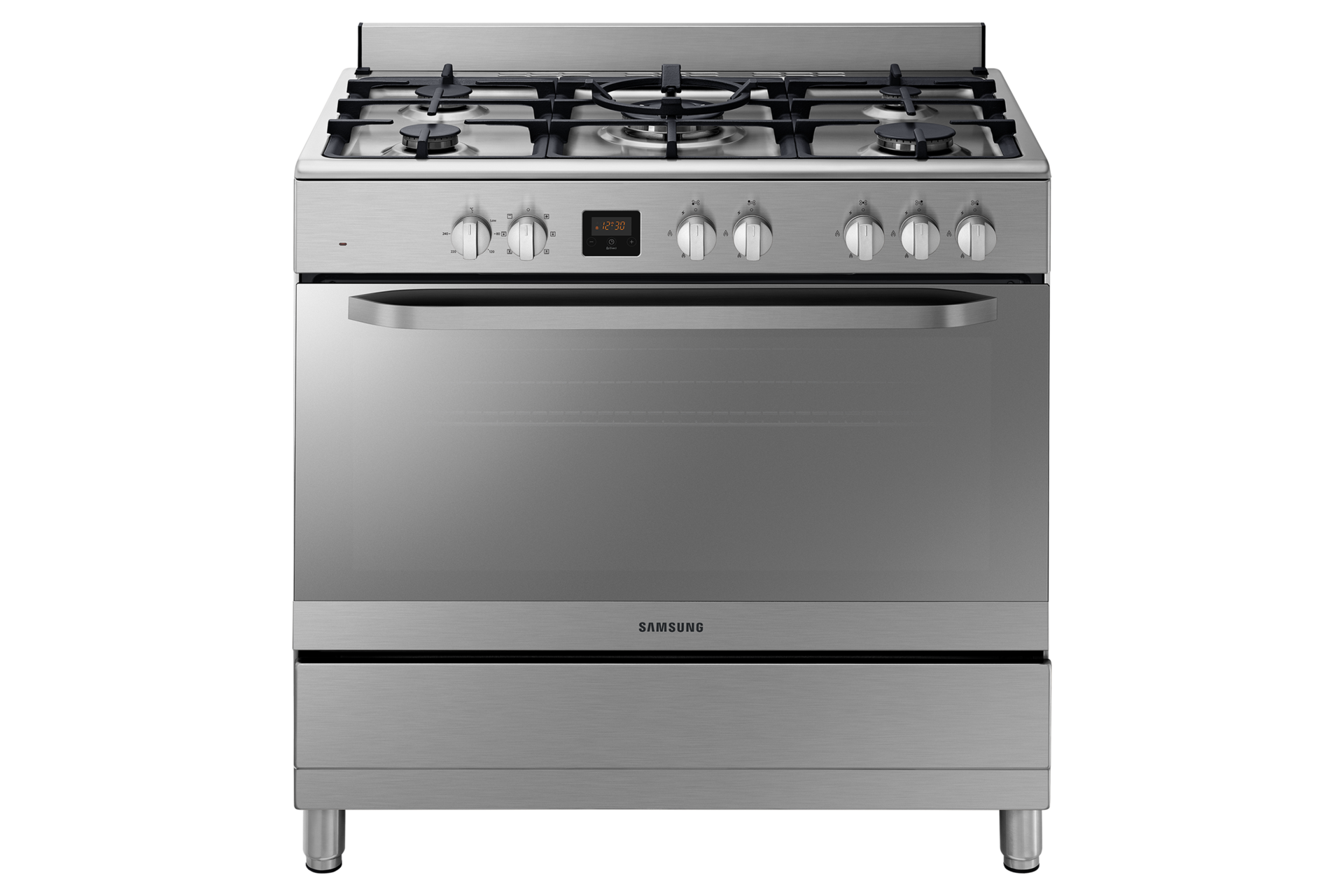 Samsung 5 Burner Stainless Steel Gas Stove NY90T5010SS
Website: Alva South Africa | Material: Stainless Steel, Ceramic Enamel | Number of Burners: 5 | Burner Size: 90 mm | Auto Ignition: No | Type of Gas: LPG, Natural Gas | Recommended Cylinder Size: 3 kg, 5 kg | Product Dimensions (L x W x H): 90 x 81 x 57.5 cm | Product Weight: 59.2 kg | Product Warranty: 12 months | Price: R 15 999,00
This Samsung gas stove offers outstanding high- and low-flame switching capabilities and is easy to assemble. This is helpful for cooking a variety of meals at different temperatures. The lowest heat was just right for cooking pasta and getting the meat to the highest degree without taking an hour or two like other stoves commonly do.
You can adjust the knobs to suit your needs, depending on how hot you need the flame to be. The Samsung 5 Burner Stainless Steel Gas Stove NY90T5010SS is one of the greatest gas stoves in South Africa because Samsung has been a well-known brand, and its products have always been top-notch. Our experts were amazed by the fact that this gas stove is excellent.
It is perfect if you have a little more kitchen space and prefer to cook a lot of meals at once. The stove's five (5) burners are evenly spaced apart, and the heat is distributed evenly. It is quite easy to ignite the burners, which is not always the case with other stoves. If you want a stove that will do its functions and look lovely in your kitchen, this is the one for you.
The best feature of this gas stove is that it occupies less space in your kitchen and is a freestanding gas stove. Due to this, it is perfect for people who want something that looks great but doesn't take a lot of time to install.
---
Elba 90cm Fusion Gas Stove Electric Oven 01/9FX827B
Website: Elba Cookers | Material: Stainless Steel, Glass Doors, Enamel Covering | Number of Burners: 5 | Burner Size: 90 mm | Auto Ignition: Yes, Electronic Ignition | Type of Gas: LPG | Recommended Cylinder Size: 3 kg, 5 kg | Product Dimensions (L x W x H): 90 x 90 x 60 cm | Product Weight: 60 kg | Product Warranty: 24 months | Price: R 18 999,00
The Elba Gas Stove is a top-notch product. The burners are of excellent quality, and the stainless steel is perfectly polished. Even though the knobs are not wrapped with a rubber covering or anything else, they are strong and easy to hold.
With lots of space between the burners to fit large pots and pans, this stove is especially well-suited for families with larger kitchens. The fact that it has an anti-spill design is also fantastic because accidental spills occur frequently when cooking at home, and it is inconvenient to toss things away rather than thoroughly clean them up. The lower compartment's drop-down oven provides the best broiling temperatures.
Given the excellent five (5) gas burners and one (1) triple-ring burner, this stove is outstanding for the price and incredibly easy to use. It is heavy-duty. But for anyone looking for a large, stunning kitchen option, this is a fantastic choice.
Final Verdict
Gas stoves helped improve our ability to cook and have become a necessary element of our kitchen. As technology has advanced, gas stoves have significantly evolved as well.
Today, one may discover a variety of gas stoves that are meticulously made to satisfy everyone's needs. Burners come in a variety of types and designs, and some even have ovens.
It is important to have a basic understanding of all sorts of systems because each has advantages and disadvantages. The best gas stoves in South Africa provide several advantages that make cooking more fun. These include quick, effective cooking, simple cleanup, and kitchen safety.
Related articles: