Best Pool Cleaners in South Africa
Pool maintenance can be expensive over time. However, cleaning it by yourself is strenuous and laborious. Having your swimming pool cleaned by a robot will save you the money that you would otherwise spend on paying someone else to maintain your pool. To properly maintain your pool, you must choose the finest pool cleaner in the market. Our editors gathered the Best Pool Cleaners in South Africa.
A pool cleaner is an investment. Pool cleaners are still popular among serious buyers and pool owners despite their costly price tags. One apparent reason is the savings they obtain over time from pool cleaners.
Finding the finest cleaner for your swimming pool does not have to be time-consuming. Our top ten best-selling pool cleaner roundup should rightly point you in the right direction. Our experts looked for only the best pool cleaners in South Africa that are easy to maintain, effective at cleaning, and are simple to adjust for a more thorough cleaning.
Buying Guide: Best Pool Cleaners in South Africa
For first time buyers, buying a pool cleaner can be tough. Unlike other home appliances, pool cleaners are niche; even dominant home appliance manufacturers like Samsung and LG are not in the pool cleaner market. Our editors sum up the things to consider before buying a pool cleaner.
Pool Surface
First and foremost, you must be familiar with your pool and its surface. Nowadays, most cleaners can handle any pool surface. However, if your pool has fibreglass or sticky tile pool floor, you should opt for a robotic cleaning.
Pool Size
We have heard plenty of times that people chose the wrong pool cleaners because they failed to consider their pool size. Size matters when it comes to choosing the right pool cleaner.
Each pool cleaner has a certain length of wire. If you fail to consider it, you may need an extension cable to cover the entire pool surface. You don't have to purchase a cleaner with an extended wire length if you discover you need one later. The cleaner must have enough wire to reach every part of the pool from the power source. Remember, electricity and water do not go together well and may lead to unwanted accidents.
And, since the power source must be 12 feet away from the pool's edge, you should include this in your purchase. Consider both the depth and the height of your pool.
Filter Size
Debris or dirt scale, often known as micrometre scale, is measured in microns. The lower the micron number, the smaller the particles that a robot cleaner's filter can clear.
Using low-micron baskets or filter bags, your robotic cleaner will sterilize and purify the water. Descriptive terms, such as 'mesh' or 'perfect,' are irrelevant. If you want to clean your pool, make sure the micron value is as low as possible.
Washing Jets
Some robot pool cleaners utilize jets to power wash, while others use brushes. If you have sand, silt, or dirt particles in your pool, power jets are the way to go.
Washing jets are also helpful for cleaning pool surfaces that are inaccessible to standard brushes.
Warranty
Make sure that any robot pool cleaning comes with the longest guarantee available. If there is an issue with your pool cleaner, the manufacturer will repair the unit. Some will even replace it outright. And repairing a malfunctioning motor or pump on a robotic pool cleaner is not inexpensive.
Suction power
Examine the suction strength, which is generally measured in gallons per minute. A high suction requires more than 70–75 GPM. As the volume increases, the pool cleaner becomes more effective.
10 Best Pool Cleaners in South Africa
We searched and tested dozens of pool cleaners to bring you our ten (10) best picks to buy in South Africa.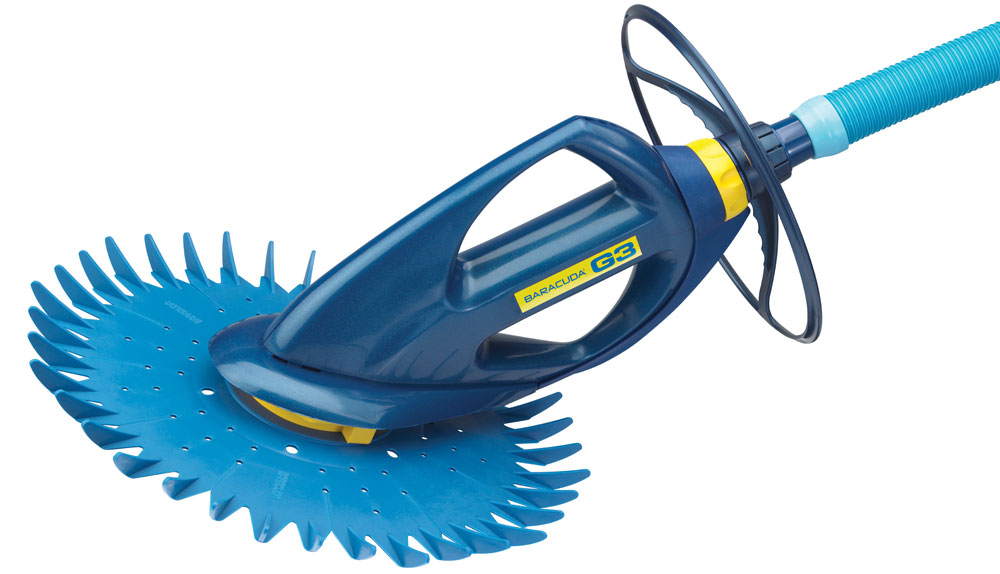 Zodiac Baracuda G3 W03000 Advanced Suction Side Automatic Pool Cleaner
Don't have time to clean your pool, but also do not want to spend top dollars for a pool cleaning service? Then, the Zodiac Baracuda G3 is your guy. It makes short work of the time-consuming chore of vacuuming your pool's floor and walls. The Zodiac Baracuda G3 Automatic Pool Cleaner is a suction-side pool cleaner that attaches to your pool's skimmer or a dedicated suction line.
The Baracuda G3 is equipped with an innovative 36-point disc. Using the latest in pool cleaning technology today, It helps the machine easily glid over your pool floor without being trapped on impediments like drains or lights. Furthermore, a wheel attached to the cleaner's head aids in steering the vac clear of tight spaces, such as behind steps.
The Baracuda G3 is a fantastic option whether you have a single, two-speed, or variable-speed pool pump. It's designed to function with even low-speed pumps and comes with a FlowKeeper valve to control the pace of the water flow.
Regardless of pool surface, this automated pool cleaning is ready to take on your filth and debris whether you have a vinyl, tile, concrete, or fibreglass pool.
---
Pentair Kreepy Krauly Suction-Side Inground Pool Cleaner
The Kreepy Krauly Pleated Seal Pool Cleaner from Pentair is one of the pool cleaners with the most powerful suction power. In fact, it is strong enough to remove algae, grime, and debris while being gentle enough for PVC pools.
When compared to specific brushes or wheels on other pool cleaners, the Kreepy Krauly's soft, pleated skirt on the head is not as irritating on the vinyl liner of your swimming pool. Additionally, it keeps the design simple, with no wheels, gears, or diaphragms and few moving elements.
A diving float system guides this pool cleaner down the length of your PVC pool and up the wall to the waterline. Attach it to your pool's suction line or skimmer, and the Kreepy Krauly will get to work collecting detritus that you would otherwise spend hours manually cleaning.
---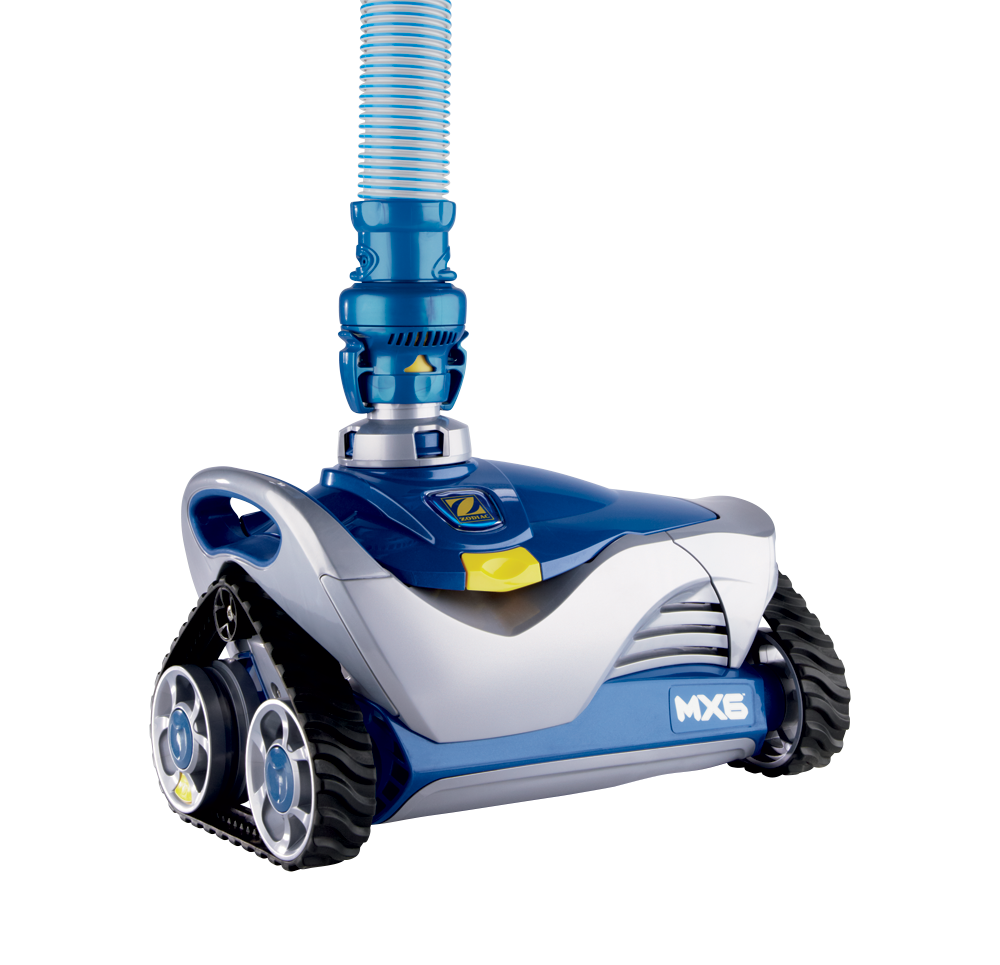 Zodiac MX6 Suction Automatic Pool Vacuum
Suction pool cleaners are an effective and simple method to maintain your pool free of algae, grime, dust, and debris.
A suction-side pool cleaner, when connected to your pool's skimmer or dedicated vacuum line, will mechanically traverse the floor and walls of your pool, gathering everything in its path.
Tiny and medium-sized garbage is no problem for the Zodiac MX6, its four belt-driven wheels, and its cyclonic suction system. However, sizeable kinds such as palm fronds may clog the vacuum. Though the Zodiac MX6 is simple enough to open its middle chamber and clear any big things from the mechanism.
Furthermore, suction pool cleaners like this one can climb the walls of your pool, providing a more thorough clean to the waterline. This variant has an articulating turbine blade to improve its efficiency while wall climbing.
---
Hayward W900 Wanda The Whale Above Ground Pool Vacuum
Above-ground pools may provide unique problems in keeping the water clean and gleaming. While some inground pools have built-in suction pipes for attaching a pool vacuum, above-ground pools are normally operated by hand.
Wanda the Whale from Hayward is ready to assist if you're searching for a simpler method to manage your above-ground pool.
This above-ground pool cleaner attaches to your pool's skimmer system and utilizes a turbine to draw water from the pool's bottom, propelling particles up the hose and into your skimmer as it goes.
Wanda is capable of cleaning pools up to 27 feet in length and has SmartDrive technology to properly direct the vacuum and maximize the effectiveness of each cleaning session.
Keep in mind that this pool cleaner will not climb the walls of your above-ground pool; it is only responsible for keeping the pool's bottom clean, which it accomplishes admirably.
---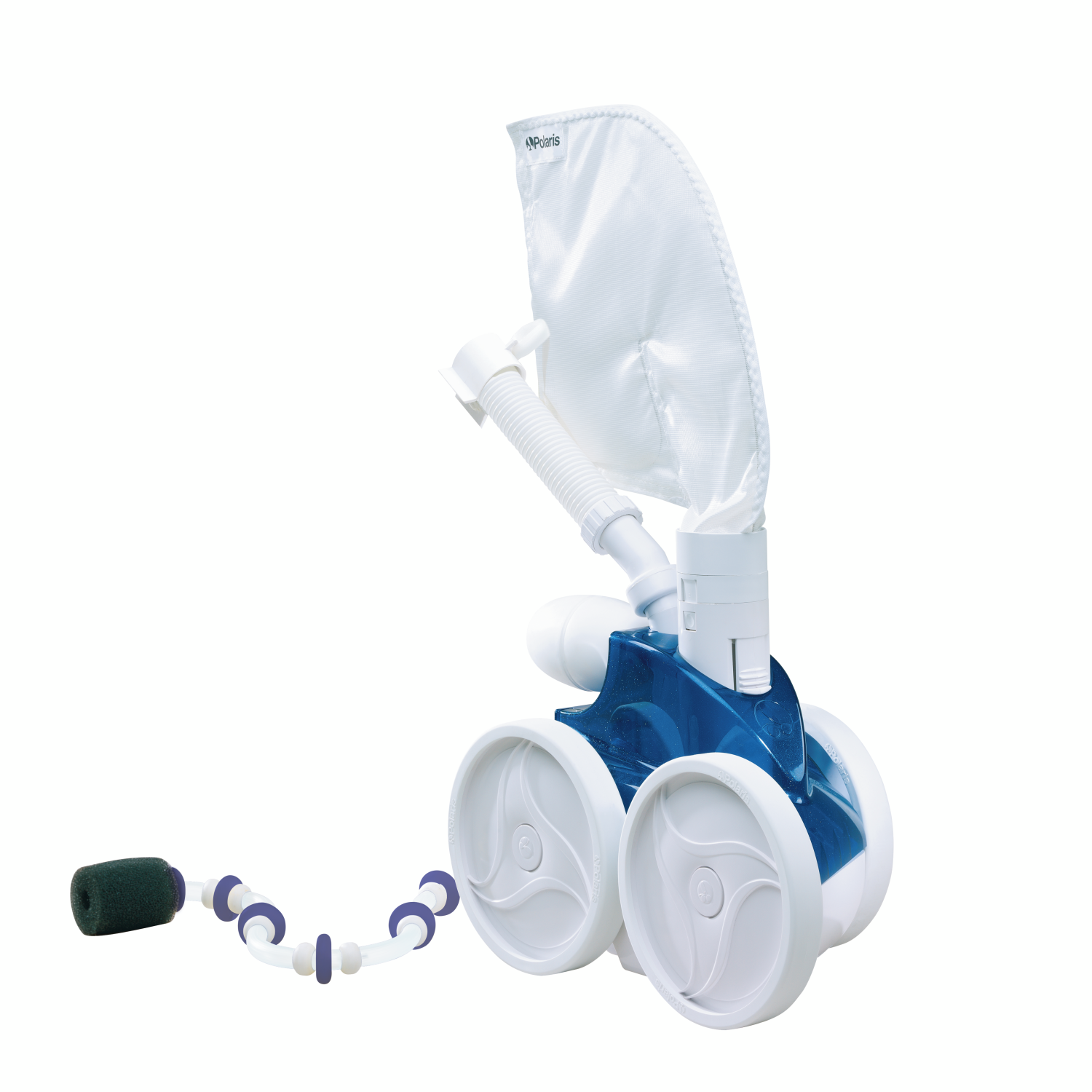 Polaris Vac-Sweep 360 Pool Cleaner
Despite its small size, the Polaris Vac-Sweep 360 is a strong pressure-side pool cleaning. A large intake measuring roughly two and a quarter inches is one of the unique characteristics. It means it is large enough to catch stones and other pool debris before they enter your filtration system. On top of it, its auto-backup mechanism ensures that it will not get stuck when cleaning your pool.
Polaris' trademark three-wheel track design is included on the Vac-Sweep 360. It allows it to travel easily around the pool and up the walls. As a result, the Vac-Sweep 360 cleans a pool in under three hours.
However, one of the most significant aspects of the Polaris Vac-Sweep 360 is its positive Amazon reviews. The pool cleaner has an average rating of 4.4 stars out of 5, with most customers praising the unit for not requiring the usage of a booster pump.
If you're searching for the best in-ground pool cleaner, go no further than the Polaris Vac-Sweep 360.
---
Paxcess 2021 Automatic Robotic Pool Cleaner
Are you looking for a reliable and automatic robotic pool cleaner? Look no further. Our editors recommend the Paxcess 2021 Automatic Robotic Pool Cleaner as it has a slew of extra functions that pressure-side cleaners don't.
The Paxcess 2021 Automatic Robotic Pool Cleaner features the capacity to clean both above-ground and in-ground pools, a scouring brush at the front, and an electric engine to move it in the desired direction.
Additionally, the Paxcess Pool Cleaner also has sophisticated programming that allows you to place it in the pool and set it to clean everyone, every two hours or three hours. All you have to do is connect it in and wait for it to start working.
Everything is great except for its sponge rollers, which sometimes leave black streaks on our pool floor and sides. It also left scuff marks on the walls while the robotic pool cleaner tried to climb the pool walls. Other users also complained about this as seen in some customer feedback. It should be noted, however, that this was not the case for all users.
Overall, the Paxcess is an excellent value for a robotic pool cleaning.
---
Pool Blaster Max Li Cordless Pool Cleaner by Water Tech
A cordless portable pool cleaner, such as the Pool Blaster Max Li, is an excellent choice if you have a tiny above-ground pool, spa pool, or hot tub. This pool vacuum cleaner has a 10.5″ head attachment with five wheels and brushes, a multi-layer filter bag, and rising suction.
Pool Blaster Max Li Cordless Pool Cleaner collects small and big detritus from the pool's surface and bottoms, such as acorns, leaves, twigs, and sand. You may even detach the attachment and utilize its cone nose to reach difficult spots if necessary.
The Max Li is powered by a rechargeable lithium-ion battery that can last an hour. According to the manufacturer, it only takes roughly four hours to fully recharge. Our testers confirmed this fact.
If you have a large pool, the Max Li can be connected to any standard telescopic pool pole to reach all regions of your pool. If you don't already have one, one may buy this pool cleaning model for roughly $30 more.
---
XtremepowerUS Automatic Suction Vacuum Pool Cleaner
Pool cleaners vary in price, and many models have expensive price tags that may cause you to reconsider if you should physically vacuum your pool once a week. But, before you give up your spare time to save money on pool cleaning, have a look at this affordable pool cleaner that costs less than $100.
The XtremempowerUS Pool Cleaner Vacuum attaches to your pool's suction line and helps clean the floor and walls of your pool, which may be up to 16 x 34 feet in size. This basic pool cleaner is devoid of frills and does not design to take up heavy particles such as leaves.
Despite this fact, it shines at normal maintenance and scrapes away algae, fine debris, and dust. Make sure you have at least a 34 horsepower pool pump for appropriate performance (or 1600 GHP).
You will need to spend some time setting up this low-cost pool cleaner, ensuring that you have the appropriate length of hoses and stabilizer weights where required.
---
Pentair 360042 Vinyl Pool Cleaner
Vinyl pools need the use of proper pool cleaning. Why? Because vinyl-surfaced pools are far more fragile than concrete-surfaced pools.
So, if you're looking for a pool cleaner that won't leave any holes or scratches on your walls or floors, we recommend the Pentair 360042 since it's lightweight and lacks any harsh or scratchy surfaces.
The Pentair 360042's head is equipped with a pleated seal, making it ideal for cleaning vinyl pools without risking damaging the surface.
An automated valve is also included with the Pentair 360042. It means you won't have to worry about the Pentair 360042 becoming tangled or snagged since the backup valve cuts in every few minutes and pulls the machine back.
This function not only allows the Pentair 360042 to continue cleaning if it becomes stuck, but it also ensures that it never misses a place. As a result, you may enjoy an extremely clean swim.
---
VINGLI Automatic Pool Cleaner In-Ground Suction-Side Vacuum
Last but not the least, we recommend the VINGLI Automatic Pool Cleaner In-Ground Suction-Side Vacuum. This tiny but efficient pool cleaner has all the necessary functions and sweeps through any pool surface. This device is simple to put together, operate, and store.
VINGLI's intelligent cleaning technology allows this pool cleaner to remove filth, hair, sand, and other trash from the pool floor. Additional hoses may be purchased for free to increase your reach. These hoses are of decent quality since they are scuff-resistant and prevent air leaks.
For the price, this regular VINGLI pool cleaner performs similarly to higher-end pool cleaners. It does not need any extra tools, therefore this is all you will have to spend to complete the task.
---
Final Verdict
Whichever pool cleaner you pick, as with all swimming pool equipment – remember to choose one based on the primary advantages the product provides you in particular, rather than the frills.
With the correct pool cleaner for your pool, you can spend less time maintaining it and more time enjoying its clean and soothing waters.
All ten of the best pool cleaners in South Africa are examined to provide the best value for money in terms of quality, durability, practicality, and adaptability, making them very reasonable solutions for pool owners looking to maintain a clean pool!
Related articles:
[addtoany]